The secret walk at Sheringham Park
The park has a hidden trail called "Sparrow Dale" nestled between two parallel hills originally used for pheasant shooting in the 19th century. The walk consists of a viewing canopy above the gigantic Rhododendrons, the "Handkerchief Tree", so named because of the way its flowers hang from its branches and untold wildlife to keep an eye out for.


Trelissick in Cornwall
Home to tree giants and mega mushrooms, it also hosts a hidden path great for exploring. The park runs alongside the Fal Estuary giving both woodland and water to feast upon. The secret is to follow the path all the way round Lamouth Creek, spotting Kingfishers on the way to the Iron Age fort at the mouth of Ranchwood Quay.


Stowe Gardens in Buckinghamshire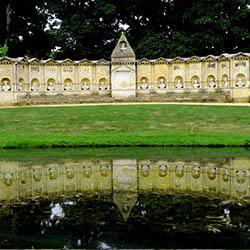 The estate provides an enchanting day out for all that visit. Flashes of the castle can be seen as you start your journey around Octagon lake with ancient temples and the awesome "Walking Yew" on the far side; a must-see before exploring the secret garden; a place you'll only ever imagined from the storybooks you read as a child.


Sizbergh Castle and gardens in Cumbria
Sizbergh makes for a great family day out with woodland walks and plenty of wildlife to spot along the way. The kids will love the obstacle course that runs throughout the "Wild Play Trail" and you'll be keeping an eye out for the roe deer, foxes and buzzards that call it home.
Fridaythorpe in Yorkshire
The hidden valleys around Fridaythorpe provide a peaceful and breath-taking stroll through dry dales that surround the area. You'll pass the "Waves of Time" artwork along the way and experience reams of wildlife and scenery away from the city buzz.

Find out how much your caravan can earn you


River Ayr Way, Ayrshire, Scotland
Accessible from multiple entrances, the 44 mile route offers a quiet and seemingly secluded spot that's in short reach of places to stop to eat and drink. Crossing farmland, moorland and woodland whilst winding with the River Ayr, the path is a wild adventure for those who choose to experience it.
Windlesham Arboretum
So secret even most of the local residents don't even know it's there! There are two public footpaths that run through the quietly spectacular private estate with a plethora of lakes, follies and monuments. A surprise around every bend of the path provides a wealth of sights and sounds on this short walk.
Chapman's Pool hidden beach walk in Dorset
Part of the South Coast Path, this is a challenging walk and not for the little ones. You'll pass caves, limestone cliffs and quarries along the way and find historics remnants of times gone by. Stop for a picnic and breathe in the fresh sea air before you head back to your car.
Erdigg secret walk in Wales
A 6.4km route through the Erdigg country park is family and dog friendly providing you keep them on a lead (the dogs that is). You'll pass farm animals and beautifully landscaped gardens before heading out into the open plains of flora and fauna before heading to other points of interest such as the "Cup and Saucer" and the big Monkey Puzzle tree.
River Dove walk in the Peak District
Although a popular tourist destination , many don't venture further than a mile or so of the route and they are definitely missing out. Full of the sights and sounds of nature like the limestone cliffs, huge Dove Holes and Reynard's Cave alongside the ample wildlife, this walk does not disappoint.
So what is Camplify?

We are the UK's fastest-growing peer-to-peer caravan hire and RV sharing community. Camplify is just like Airbnb, but for caravans, campervans, motorhomes, trailer tents and lodges. We connect RV owners with holidaymakers in a safe and secure sharing environment. It's free to list and we take care of insurance and breakdown cover while your RV is out on hire.


Curious to learn what you could earn hiring out your RV on Camplify? Try our free hire income calculator via the button below.


Find out how much your caravan can earn you


To find out how Camplify can work with you and your RV, register today here.
This article was posted in –
There are 0 comments on this article
The Wireless
To keep up to date with all our offers and updates through our regular emails, please check the relevant boxes below.