Summer's breathing its hot, sunny breath down our necks. We're already wearing shorts and drinking during daylight hours, which are getting longer each day. We should also be thinking about how to make the most of our free time in the sun, whether it be just a weekend or 4 weeks. Forget sweltering in stuffy city hotels abroad, or visiting the rellies again. The best way to get away is caravanning in the UK, and here's 20 reasons why:
1. Escape the tourists
The allure of a summer caravan holiday in Britain is that you can escape the city crowds yet you're never far from the action. You can spend your days at Newquay and in around half an hour, return to a gorgeous, tranquil sunset at
St Agnes
.
To be fair, if you're heading out for a day at Brighton Pier in summer, you might bump into a few thousand other tourists. Still, a ride on the Horror Hotel Ghost Train is far less frightening than London's subterranean sweat factory (a.k.a. the tube) in summer.
2. Take a summer holiday that won't blow your budget
visitwales
Caravanning has always been an enticing yet affordable way to see the country. The best part is that you don't even have to own a caravan to enjoy a cheap summer holiday in the UK! Thanks to Camplify, you can get all the benefits of a low-cost outdoor camping adventure, without making a big investment.
3. Leave the telly at home
TheSun
The end of summer and return to normality each year is sweetened a little by our favourite programs, and 2017 is shaping up to be an interesting year on the telly. The news about a certain show has hit some of us hard, so we'll need to be well-rested in order to properly pass judgement on the revamped reality show of all reality shows.
What better way to relax and reassess everything we thought we knew, far away from distractions, than with a caravanning holiday?
4. Breathe in fresh air, not pollution
flickr
What's the use in taking a break from the city just to go to… another city. On a summer getaway there's nothing quite like waking up to the scent of sea air and sun cream, or the sounds of birdsong and rustling trees. Unless you prefer the smell of Co² and the incessant beeps of the Oyster card readers.
5. Bring everything with you (including the kitchen sink)
theseea
One of the best things about a caravan holiday is not having to fit everything into a suitcase. This is especially handy when travelling within the UK, because even though it's the middle of summer, you're mad if you don't pack an anorak and umbrella along with your sun cream.
What's a summer holiday in Cornwall without taking your surfboard and bike? Or the kids' bodyboards… or maybe just the beach cricket set, some deck chairs and a cool box.
6. Invite your favourite family member on holidays
telegraph
You can't bear the thought of your furry friend being all alone while you're away! Kennels can be very expensive and most hotels aren't going love your pet as much as you do. A camping holiday in the UK can be enjoyed by the whole family.
7. Use ridiculous gadgets without feeling ridiculous
tefal
Because they're necessary, ok? Every caravan needs one of these.
8. Make van mates
turnberry
Touring caravan sites are brilliant places to socialise with like-minded campers and let your kids play with some new friends.
9. Escape to (and from) the great outdoors
millracegardencentre
We're all aware of how delightfully spontaneous the British summer can be. Touring in a caravan offers the perfect mix between enjoying the outdoors and enjoying a barbecue without being rained on.
10. Dining that doesn't cost a fortune
Pinterest
If you're taking the family away for more than a few days, all those restaurant bills can start to hurt—even if you go nowhere fancier than Nando's. Whether you've got a little gas stove or a full-sized oven in your van, cooking the majority of your meals will leave more money for sightseeing!
11. Give the whole family a digital detox
These days it can be hard to keep the kids (and let's be honest, ourselves) away from phones, tablets and video games during the holidays. A summer caravanning holiday in the UK can provide endless distractions and amusements, giving the whole family a break from the norm without breaking the bank.
12. All the fun of the campsite, without the hassle of a tent
linkbeef.com
Forget spending hours trying to pitch a tent in the dark on impossibly rocky ground, only realising you should've bought the more expensive one when it starts to rain.
Caravans, campervans and motorhomes give us the freedom of a holiday in nature without having to sleep on the ground.
13. The Lake District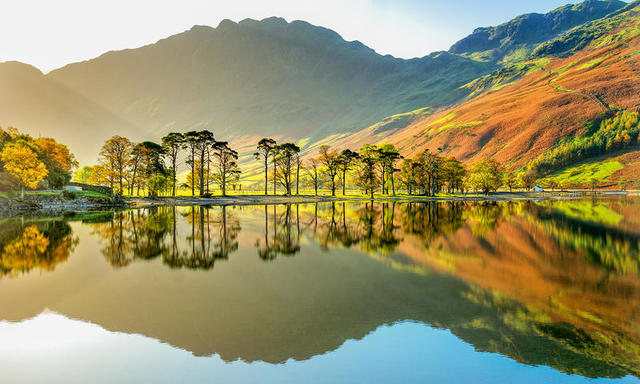 secretearth
If you love water sports and spectacular views but aren't keen on a beach holiday, the Lake District is right up your alley. There are loads of well-equipped caravan sites dotted within and around this gorgeous National Park area, perfect for both couples and families.
14. Keep as many (or as little) creature comforts as you like
vintagefolly
Some campers love the simplicity of a little trailer packed with nowt but the essentials. Others can't leave the van without their morning Nespresso and a hot shower. That's the amazing thing about owning or renting a caravan or motorhome—you don't have to sacrifice your comfort for a brilliant summer holiday in the great outdoors.
15. You don't like being told where to look
chickybus
There are those who enjoy all-inclusive, guided tour holidays that cost a fortune and you aren't given a spare second to think for yourself, but that's not you. If the concept of a caravanning holiday could be summed up in one word, it would be
freedom
.
16. Britain's National Parks
atlasandboots
With the amazing diversity of our British landscapes, it's no wonder we've fallen in love with caravanning. Whether you're heading south to the Pembrokeshire Coast, Dartmoor & New Forest, or further north towards the Lake District and Loch Lomond, each of Britain's 15 National Parks has something unique and beautiful to offer.
17. The kids will never be bored!
campsitefinderonline
Entertaining children in the summer holidays can be a nightmare if you're unprepared. Thankfully, the UK is packed with family-friendly holiday parks and touring caravan sites. All those activities and facilities are designed to keep kids amused and active, so they won't even notice you've borrowed their iPad to read an e-book.
18. Avoid "the season"
Caravantimes
If the Chelsea Flower Show and the Coronation Cup aren't really your thing, then perhaps escaping the the countryside is a better way to spend your well-earned time off.. A caravan holiday is about as far away as you can get from all that pomp and ceremony, without leaving the UK and sacrificing your afternoon cuppa and biscuits.
19. The beach, done better
telegraph
Sand, sea & sun—sans the expensive resort price tag! A beach holiday in Cornwall, Devon or Dorset with a caravan means you can bring all the beach gear and stay in the best seaside locations for a fraction of the cost of a resort.
20. You need a holiday, but don't need the stress
allenscaravans
It's been proven that we need around 6 weeks off each year to prevent burning out, so really this camping holiday is more for your own health than anything. What you don't need however, is to worry about missing flights, dodging pickpockets and struggling with "parlez-vous anglais?".
So what's it going to be? Sweating it out in the city, spending up big on something all-inclusive (freedom not included), or savouring the summer sans soucis? Thanks to Camplify, you don't even need your own caravan to get a taste of the touring life, just hire someone else's!
Start browsing locally-owned caravans, campervans, motorhomes, and camper trailers for hire today and get your UK caravanning adventure on the road!
So what is Camplify?
We are the UK's fastest-growing peer-to-peer caravan hire and RV sharing community. Camplify is just like Airbnb, but for caravans, campervans, motorhomes, trailer tents and lodges. We connect RV owners with holidaymakers in a safe and secure sharing environment. It's free to list and we take care of insurance and breakdown cover while your RV is out on hire.
Curious to learn what you could earn hiring out your RV on Camplify? Try our free hire income calculator via the button below.
To find out how Camplify can work with you and your RV, register today here.
This article was posted in –
There are 0 comments on this article
The Wireless
To keep up to date with all our offers and updates through our regular emails, please check the relevant boxes below.